Event Details
You've never attended anything like the 2013 Entrepreneur University, where you'll literally sit in on one-on-one conversations between some of the region's top entrepreneurial thinkers! It doesn't matter if you're in enterprise or consumer products, not-for-profit or already profitable. You started small and are thinking big. You're growing your business, and you don't want to miss this event.
Start the day as 40 under 40 winner and CEO Liz Pearce has a cup of coffee with Concur CEO Steve Singh and gets advice on how to take LiquidPlanner to the next level. Later, listen in as two veterans Monty Montoya (Sight Life) and Robin Wolaner (Vittana) compare what they have learned running their nonprofits as viable businesses. Grab a Foster's with Aussie entrepreneurs Dave McLauchlan (Buddy.com CEO) and the inimitable Jenni Hogan (CEO, TVInteract) as they loosen up over a couple of beers and chat about what they're seeing in the startup landscape.
Included in your price of admission is all these great speakers and the incredible panelists below. A "Taste of Pioneer Square" for lunch, and a hosted reception. Sponsor stations with great give-aways and a "Startup Scavenger Hunt" with a grand prize drawing. But wait, there's more!
Thinking about applying to an incubator or accelerator? Far friendlier than shark tank, our "Startup Tank" panel will tell you if you have what it takes. Ready to go viral? Our "Prime Time Pitches" provide you with priceless PR as the fabulous Jenni Hogan (TVInteract) interviews you on camera and captures the essence of your startup. Select student attendees get structured networking opportunities with Liz Pearce of LiquidPlanner and Julie Sandler of Madrona Venture Group. And last but not least, we're bringing back our popular eDate where you can get 1:1 speed dates with experts and mentors in team-building, finance, legal, sales, marketing, and scaling your startup.
Entrepreneur University

:
School is back in session.
---
When: Friday, October 18th
Time: 8:30 AM – 3:30 PM
Location: Impact Hub Seattle in Pioneer Square, 220 - 2nd Avenue South; Seattle, WA 98104


In one day you'll make connections to key influencers, network with like-minded entrepreneurs, gather educational materials, and set your sights on the right path for growth.

Could you find this all out on your own? Yes, but not to this level. Whether you're an early-seed entrepreneur, just starting to plant your roots, or a fully formed master with ideas ripe for the picking, come see how you can flourish in this engaging entrepreneurial environment. Take a look back at

EU 2012

,

EU 2011

and

EU 2010

...
---
Tickets:
Entrepreneurs: $139
Service Providers: $169
Student tickets: $35 – Powered by the Herbert B. Jones Foundation scholarship (Additional information listed below)
Late Registration (At the door, day of event): $199
Cancellation Policy: If for any reason you're not able to attend, please contact us at info@nwen.org to discuss ticket transfers or refunds. Full refunds can not be considered after Wednesday, October 16th. Please let us know before then if you are not able to attend.
---
College and Grad Students!
Your ticket to EU is powered by out
Herbert B. Jones Foundation
scholarship. Just $35 to attend the full day event.
FILL OUT OUR APPLICATION
and send it in to NWEN to secure your ticket to the event.

Scholarships Provided By
---
.
EVENT SCHEDULE

TIME

EVENT

PRESENTERS

HUB LOCATION

8:30 - 9:30 AM

Check-in, reception, and choose your flight plan

NWEN Mentors

Main Hall Reception Area

9:30 -10:30 AM

CEO Coffee Talk: Secrets of enterprise success

Liz Pearce, CEO at LiquidPlanner
Steve Singh, CEO at Concur

Main Hall
eDate (3rd Floor)

10:30 -11:30 AM

Panel: Winning in the wide world of retail

Dani Cone, CEO at High 5 Pie

Nathan Kaiser, CEO at 2bar Spirits
Sharelle Klaus, CEO at Dry Soda

Main Hall
eDate (3rd Floor)

11:30 AM -12:30 PM

CEO's on a mission: The business of nonprofit

Monty Montoya, CEO at Sight Life
Robin Wolaner, CEO at Vittana

Main Hall
eDate (3rd Floor)

12:30 -1:30 PM

Taste of Pioneer Square, special sessions

Local restaurants and special guests

Main Hall

1:30 - 2:30 PM

CEO tell-all: Breaking into the startup scene

Jenni Hogan, CEO at JenniHogan.com, CEO, TVInteract
Dave McLauchlan, CEO Buddy.com

Main Hall
eDate (3rd Floor)

2:30 - 3:30 PM

From student to serial entrepreneur: The lifecycle of startups

Andrew Dumont, Director of Business Development at Moz
Mariah Gentry, CEO at Joey Bra
Kelly Smith, CEO at Curious Office

Main Hall
eDate (3rd Floor)

3:30 – 3:50 PM

Closing Keynote

Jordan Weisman, Harebrained Schemes

Main Hall

3:50 PM – END

Networking Reception

Signature cocktail, wine, beer, apps and prizes

Main Hall
---
Who is going to be there? 300 people with one thing in common... we love starting things up. Participants include 100 well-rounded entrepreneurs from consumer products to clean tech, medical devices to digital media, software to services. 100 MBAs in entrepreneurship, 100 speakers, sponsors, and investors in the entrepreneurial ecosystem. And you.
---
Special Thank You to Our Event Sponsors
eDate Sponsors: 3DegreesTalent; Swift HR Solutions; GPL Tax & Accounting; Evolution Legal Group, PLLC; Heinz Marketing; Yellow Dog Consulting; Content Marketing and Jerome, Bruhn & Associates.

Promotional Partners: Keiretsu Forum, 9Mile Labs, Buerk Center for Entrepreneurship, Code Fellows, CRAVE, Eastside Incubator, Impact Hub, Seattle Entrepreneurs, Seattle Startup Week, Startup and Growth Company Meetup, Startup Grind, SURF Incubator, TiE, TVInteract, Zino Society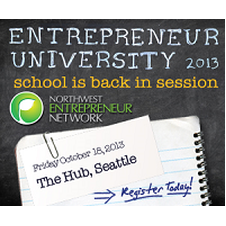 When
18 Oct 2013
8:30am - 3:30pm
Location
Impact Hub Seattle, 220 - 2nd Avenue South; Seattle, WA 98104